Leaves your hands Clean, Soft and Smelling Fresh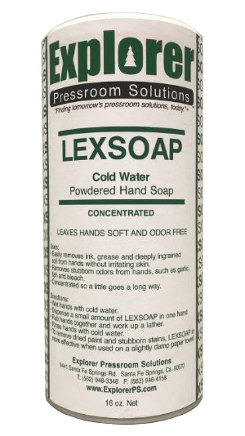 LEXSOAP is an American made professional grade, cold water, powdered hand soap that leaves hands clean, smooth and odor free. It easily removes grease, oil, ink and deeply ingrained soil from hands without irritating or drying out skin.
LEXSOAPS' powerful cleaning action and smooth, odor-free finish have made it a first choice hand soap for construction workers, electricians, landscapers, mechanics, painters, plumbers and printers. It's special soap formula is even preferred by professional mechanics who get other brands of soap for free from sponsors, but choose to buy LEXSOAP instead!
Natural ingredients to do the dirty work!
LEXSOAP's uses natural ingredients to get you clean. Our formula contains natural pumice which is considered one of the softest abrasives in the world, making LEXSOAP powerful enough to scrub away thick, sticky grim without being harmful to hands. The natural soaps in LEXSOAP work with the pumice to break down greases and oils and encapsulate them, along with any other dirt and grime, allowing them to be easily washed away. LEXSOAP and the broken down grim then rinse off completely with cool water leaving hands clean, smooth and fragrance-free.
LEXSOAP is 100% Made in the USA
LEXSOAP's container, label and soap formula are all 100% made in the USA. The reusable, paper based containers and their labels are manufactured and printed in Southern California, and the recyclable plastic caps are manufactured in Pennsylvania. All the ingredients in LEXSOAP's formula are sourced from US suppliers and the finished product is manufactured and packaged in Santa Fe Springs, California.
LEXSOAP FEATURES
No harsh chemicals, skin irritating solvents or petroleum products.
Special formula does not dry out hands.
Formulated with natural and biodegradable ingredients.
Natural pumice provides excellent scrubbing power.
Natural soaps lift away dirt and grime.
Cold water formula makes it easy to use while in the field, at the job site or on the go.
Easy to pour, free flowing powder.
Concentrated so a small amount removes a lot of grime.
Removes dirt, glue, grease, ink, odors, oil, paint, soil, stains and more.
Removes stubborn odors from hands such as garlic, fish and bleach.
Three sized to choose from for easy cleaning at any work site:

Bulk boxes for your shop soap dispensers
1 pound cans for counter top sink
Travel size stubby cans for your tool box or field kit

Leaves hands clean, smooth and with no fruity smell.
100% made in the USA
Directions:
Wet hands with water. (Not every job site has running hot water so we developed LEXSOAP to provide maximum performance with cold water)
Dispense a small amount of LEXSOAP in one hand.
Rub hands together to work up a lather, scrubbing all the dirty, grimey areas of your hands.
Rinse hands with water.
PRO TIP – For stubborn stains, like dried paint, add LEXSOAP to a slightly damp paper towel and then scrub hands.
Professional hands deserve professional soap.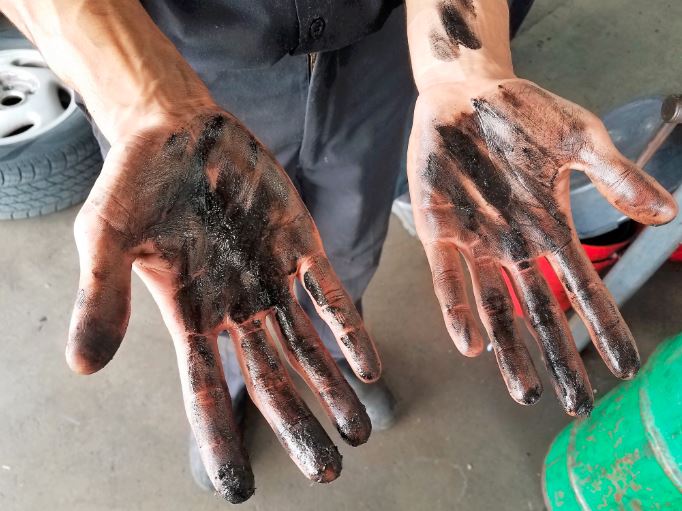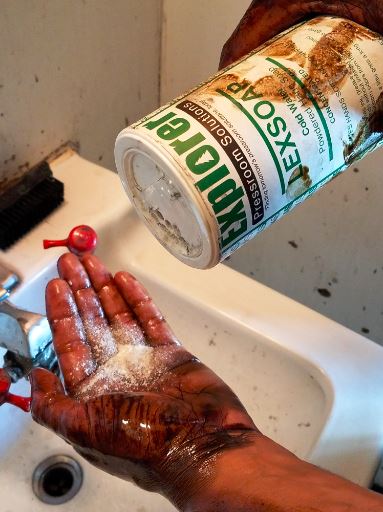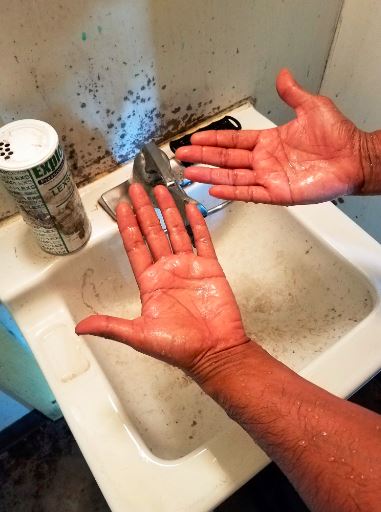 LEXSOAP, Finish like a Pro!
Our Happy Customers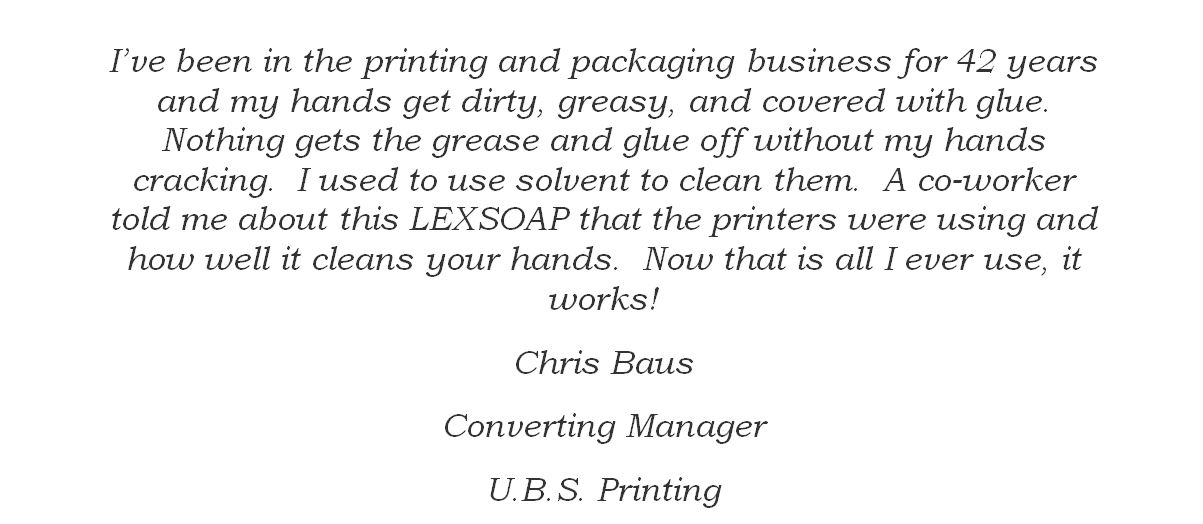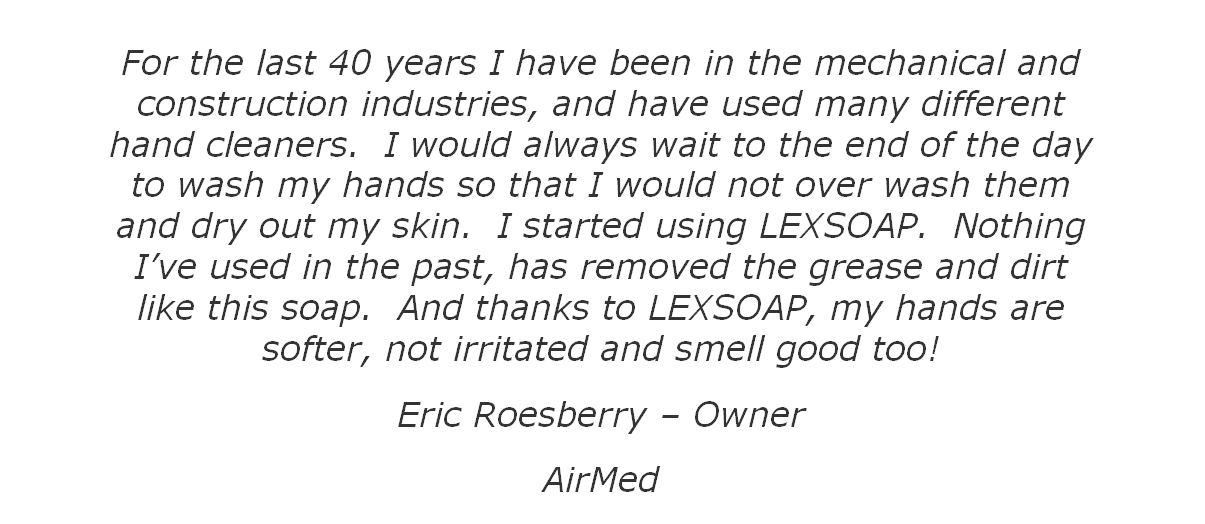 If you are interested in purchasing LEXSOAP outside the continental USA, please send us an email at admin@lexsoap.com